Japan's Fujitsu technology company has announced a project to find risks in smart contracts, marking an interesting move into the blockchain tech world, and far beyond its usual focus on computer hardware.
In a statment the major Japanese company explained that 'Fujitsu Laboratories and Fujitsu Research and Development Center have developed algorithms to identify risk-affected transaction sequences on Ethereum, [and] they have developed technology that is able to comprehensively detect six types of risks in smart contracts (see table below), which have the potential to be overlooked in a manual review, and can then identify the relevant locations in the source code. This technology will enable blockchain developers to rapidly develop even safer smart contracts'.
That is to say they are automating the code verification of programmed 'contracts' that are executed through a blockchain. These are often relatively simple in nature and don't really correspond to the complex, highly negotiated contracts that most commercial lawyers would think of. Nevertheless, many people exploiting blockchain tech for cryptocurrencies or other uses, are creating these 'DIY smart contracts', and they are increasingly coming under attack, both for programming flaws and for being open to hacking.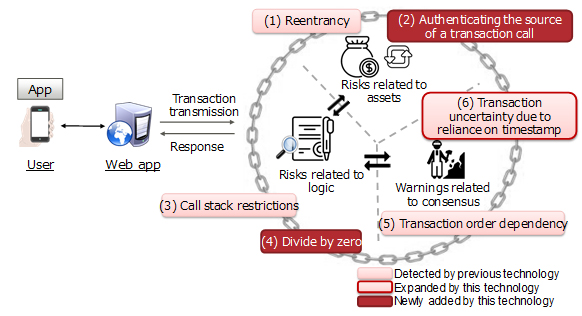 Fujitsu added that its detection system can also identify the relevant locations in the source code where there is a potential problem (see below).

The company goes on to say that: 'Using this newly developed technology, [it was] found that where previous verification tools had a detection rate of about 67%, this new technology was capable of 100% detection, excepting a few items, and that in terms of precision it achieved an accuracy rate of up to 88%, enabling both highly accurate risk detection as well as source code risk location identification.'
The company concluded that: 'Fujitsu Laboratories will continue to develop verification technologies, not only for Ethereum, but also for Hyperledger Fabric, a blockchain framework implementation and one of the Hyperledger projects hosted by The Linux Foundation, with the goal of commercialisation of this technology during fiscal 2018. In addition, Fujitsu Laboratories will not only continue to develop verification technology for smart contracts, but also broad technology development relating to building secure systems using blockchain.'
—
[Main picture of Shibuya Crossing, Tokyo, Japan, credit: R. Tromans.]