Leading Irish law firm, McCann FitzGerald, has added a further Neota Logic-based expert system to its suite of legal tools for clients, this time a Director Compliance Statement App, which will help companies comply with reporting requirements of the Companies Act 2014.
McCann has been a keen developer of Neota-based expert systems and arguably has been a model of how a law firm can leverage the technology to build useful rules-based applications for their client base. Other applications the firm has developed include one for GDPR Gap Analysis and a Credit Reporting Compliance app.
The firm said: 'The app…determines whether or not a business is within the scope of the section 225 obligations [of the Companies Act] and helps directors, company secretaries and compliance officers of medium and large-sized companies to: generate documentation for the directors' annual report; provide an audit trail for the annual mandatory compliance review that the directors of an in-scope company must undertake; and benefit from suggested wording for key documents that section 225 mandates.'
In short, the system allows clients to deal with a potentially painful area of compliance, but one perhaps that many companies may not want to fully engage a law firm to handle, at least if their situation is straight-forward.
This is therefore a win-win for McCann, as they help clients solve a 'by the numbers' problem rapidly which increases goodwill for the firm, while clients with more complex needs can see via the app that they need to engage the lawyers more deeply.
Not having such an application available may simply mean that many companies don't bother to seek legal help on this compliance point, so it's not as if the law firm is cannibalising any of its billable work by doing this. In fact, arguably the Neota application is acting as a business development tool for generating higher value work.
The firm added that this approach to exploiting rules-based systems to support their clients is part of a wider strategy they are calling 'Progressive Delivery', which involves other types of tech and use cases (see more below).
Garreth O'Brien, Corporate Partner, McCann FitzGerald, said: 'It's a simple, user-friendly tool that brings time-saving benefits to clients without sacrificing precision or expertise.'
Barry Devereux, Managing Partner of McCann FitzGerald, added: 'The level of energy and innovation among the entire McCann FitzGerald team, to create and deliver legal service solutions for clients that are tailored to their needs, is palpable.'
''Progressive Delivery' is our response to those changing client requirements and this app is the latest technology to join our ever-increasing offering of digital solutions. Our aim is to bring together our deep legal, business and regulatory knowledge with digital and AI technologies so that we can deliver a suite of agile and clever solutions that are tailored to the specific needs of our clients who are increasingly looking for greater flexibility and cost-efficiency in their legal services,' he added.
—
And for anyone wondering what 'Progressive Delivery' does, here's how McCann explains it:
'Progressive Delivery
Companies are increasingly embracing new technologies and leaner ways of working, and they expect their legal services provider to be just as innovative. With Progressive Delivery, we combine our deep legal, business and regulatory expertise with digital technologies, flexible resourcing and advanced project management skills. This approach allows us to deliver agile solutions that are tailored to our clients' specific needs, in a cost-effective and transparent way.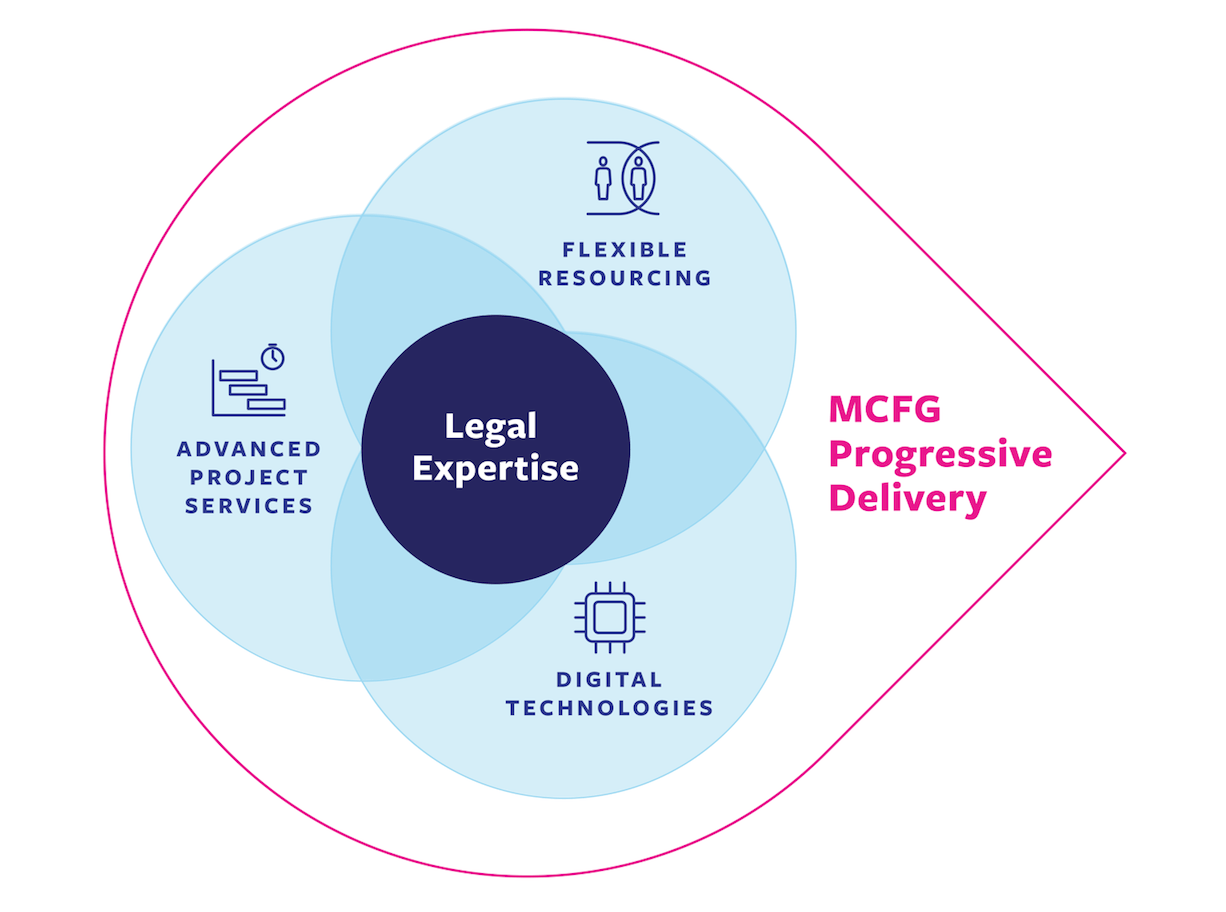 Advanced Project Services
Our Advanced Project Services division leverages a team of qualified lawyers, legal technology specialists and legal project managers to ensure that our clients receive their best outcomes, on time and within budget. We are equipped to carry out a range of tasks across all of our practice areas and have particular expertise in early-case assessment, eDiscovery, document review, investigations, due diligence, non-disclosure agreements and verifications. That specialised experience allows us to give our clients leading-edge advice and to create solutions that are innovative and successful. We also use agile resourcing and careful resource management to improve efficiencies.
We have embedded our lawyers' legal expertise into the age of the algorithm. Our Digital Technologies division, known as Digital Services, focuses on developing technology-enabled legal, risk and compliance solutions for our clients. We leverage an entire digital ecosystem for our clients' offering, services such as data room management and development of bespoke digital applications and legal document automation and workflow process management systems. We have also educated machine-learning algorithms to perform AI contract analysis for larger pieces of work or repetitive exercises. Using technology platforms, such as Kira Systems, Neota Logic and HighQ Collaborate, we work to produce cost-effective, streamlined solutions that match our clients' exact requirements.'
[Note: the text above related to Progressive Delivery is from McCann FitzGerald, see link for source.]